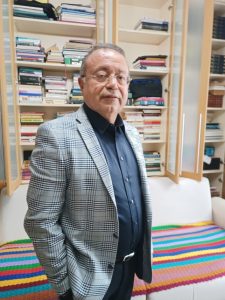 Born in 1955, Prof. Dr. Ali Kahriman graduated from Istanbul Technical University Mining Faculty Mining Engineering Department.
Between 1977 and 1990, he held various positions in the Mineral Research-Exploration and Türkiye Coal Enterprises, such as engineer, chief engineer, branch manager. He worked at Cumhuriyet University between 1990-1996. He served as the Head of the Mining Engineering Department at Istanbul University between 1996-2008. Dr. Kahriman also served as a member of the board of directors and the director of the Vocational School at Istanbul Okan University between 2008-2013. He is still working as the head of the Explosives Engineering Master's Program at the same University and as a faculty member of the Civil Engineering Department.
He is the founder and still Chairman of the Board of the National Society of Explosives Engineering. He is also an active member of the International Society of Explosives Engineers (ISEE).
Prof. Dr. Ali Kahriman's main areas of expertise are Rock Blasting Technology, Energy and Mining Policies, Tunnel and Subway Construction.
He has chaired the organizing committees and sessions of many international and national symposiums and has lectured at some of the world's leading universities. He has many national and international scientific articles and papers.
Receiving the 1997 Science Award of the Foundation for Development of Domestic Mining, Dr. Kahriman is married and has two children.
Management of Ground Vibration Caused by Rock Blasting During Mining and Construction Excavations in the Residential Area-Some Cases in Turkey