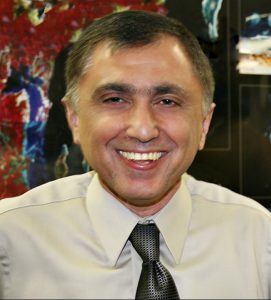 Dr. Sultan received his BSc in Geology & MSc in Sedimentary Petrology from Ain Shams University Department of Geology, in 1974 and 1978, and earned his Ph.D. from Washington University Department of Earth and Planetary Sciences in 1984 in geochemistry and Igneous Petrology. He then worked as a Senior Research Associate in the Earth and Planetary Remote Sensing Facility and the McDonnell Center for Space Sciences at Washington University from 1985 to 1995. In 1996, he moved to Argonne National Labs in Chicago Illinois where he served as the Project Manager for International Programs up to 2002.

From there he joined the faculty of the Department of Geology at the State University of New York. In 2004 and for the following 17 years, he held the position of the Chair of the Department of Geosciences, now the Geological and Environmental Sciences, at Western Michigan University, the Chair of the Michigan Geological Survey, and the Director of the Earth Sciences Remote Sensing Facility (ESRS).
Dr. Sultan has been a member of NASA's Gravity Recovery and Climate Experiment (GRACE) and GRACE- follow on (GRACE-FO) Science team for the past 14 years, a fellow of the Geological Society of America since 2009, and the first recipient of the Geological Society of America Farouk El-Baz Desert Research
Award in 1999. He is an interdisciplinary scientist who takes advantage of available tools (remote sensing, GIS, geophysics, geochemistry, machine learning, and modeling) to address a wide range of timely and complex geologic and environmental problems in the general areas of tectonics, geochronology, climate change, hydrology, water and mineral resources, pollution, and land deformation.
Dr. Sultan has over 120 peer-reviewed articles in lead scientific journals. His research has been funded by NASA, NSF, NOAA, National Academy of Sciences, USAID, NATO, and by governmental and academic institutions in the countries of Saudi Arabia (Saudi Geological Survey), Qatar (Ministry of Municipality), and Egypt (Ministry of International Cooperation).
In Egypt, he conducted collaborative research projects with various Egyptian universities including Cairo Univ., Ain Shams Univ., and Suez Canal Univ., and research organizations including the Egyptian Geological Survey, the National Authority for Remote Sensing and Space Sciences (NARSS), and the National Research Institute of Astronomy and Geophysics (NRIAG).
Keeping an Eye on the Aswan High Dam and the GERD from a Distance